Company's policy
ROMER is a global producer of high-quality powder coating plants, our priority is to provide the most advanced devices with extensive possibilities, while maintaining price competitiveness.
We have been introducing innovative solutions to the market for years, thus contributing to the global development of the industry, impossible?
Check.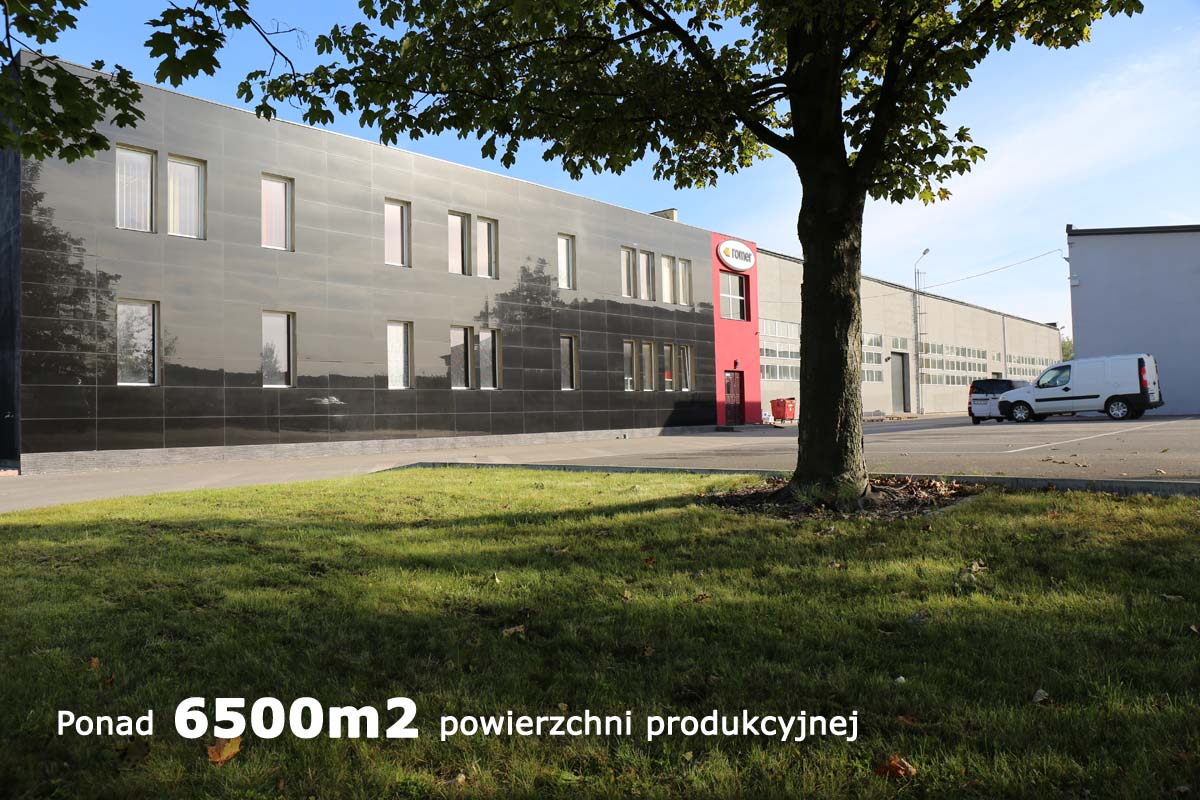 ROMER factory
The production plantof the ROMER company is located in Poland -Skarżysko-Kamienna at Rejowska 99A.It is situated on plots with an area of 31,500 m2. It has a total building area of 16.700 m2.
Romer employ sover 150 employees.


Quality
ROMER is the only producer of powder coating plants in Poland to have a quality assurance certificate for the production of devices operating in potentially explosive zones (ATEX Q) according to the ATEX ISO / IEC 80079-34 standard.

We also have implemented the ISO9001: 2015 and ISO50001,ISO45001,ISO14001. Our technical solutions are innovative, which allowed us to obtain over 30 patents.
Research and development center
ROMER R&D Center
It is equipped with a measuring laboratory, a powder paint laboratory, high voltage measuring stations, and rapid prototyping machines. R&D ROMER Center He is responsible for the process of prototyping and introducing to the market new technologies and solutions used in powder coating equipment.
Experience
ROMER has been producing its devices continuously since 1992, constantly modernizing them.
Romer are devices of high quality and relatively low maintenance / operating costs. Romer has been introducing new solutions to the industry for over 30 years.

Export
We are constantly selling to over 40 countries around the world. The devices are designed to be failure-free and the possible replacement of consumables is simple and non-invasive.

The latest control systems allow us to remotely access devices from the Internet (after obtaining the user's consent).
Flexibility
ROMER is successfully focusing on the automation of processes used in paint shops.
However, this is not the only direction, we also offer solutions for users who are just starting their adventure with painting.
Guarantee
All ROMER devices are covered by a 12-month or 24-month warranty. A number of service points / distributors around the world are responsible for service activities, which provide our customers with the highest quality of services.
Installation and staff training
After purchasing the painting line in our company, one of several service teams goes to the site to install the purchased equipment, and then conducts employee training. This one-time service is free of charge.
The assembly date should be arranged by phone or e-mail with the service department of a given distributor.
Certification
Our devices comply with the applicable standards of the European community, they are tested and safe, and each device has its CE declaration of conformity. We have a number of CE Certificates confirming the safe use of our devices, and the documentation necessary for their operation.
Transport
We provide transport all over the world, we are in constant cooperation with sea shipowners and road shipping companies.
In Poland, the service is paid additionally depending on the distance.

Leasing
We have been cooperating with leasing companies for a long time. Leasing companies know the value of our equipment, which makes obtaining a lease for the purchase of our company's equipment easier and more likely.
Our partner is the European Leasing Fund belonging to the Credit Agricole group.


Legal information
Price lists on the website do not constitute an offer within the meaning of the Civil Code.
ROMER reserves the right to make technical changes and specifications without prior notice.
The presented products may contain elements of optional equipment that are not standard equipment.